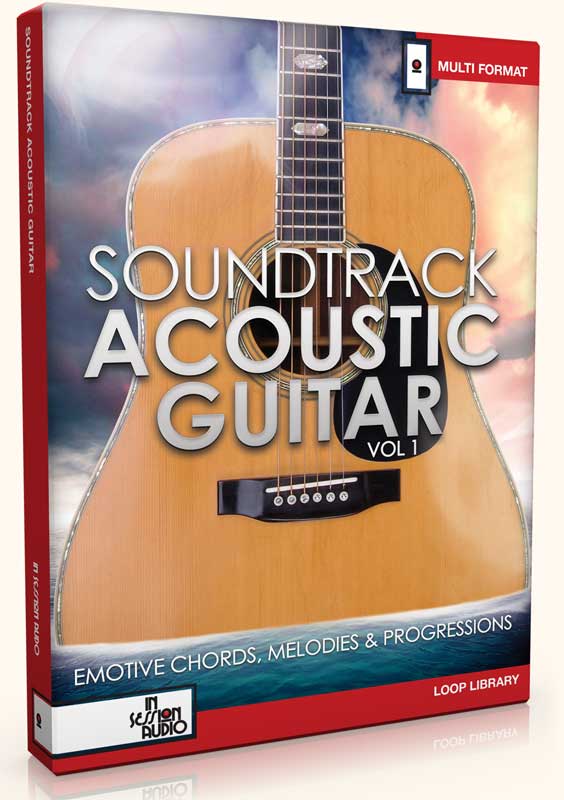 Get the demo loops for any library in any format.
We'll send you an email with links to everything!
Soundtrack Acoustic Guitar presents a sensitive finger-tip touch to an array of emotive chords, progressions and single line melodies.
Performed and recorded with sophistication and depth, this loop library can set a foundation or top off an existing idea for anyone producing delicate and expressive music.
Producer's Notes
"We wanted to give the composer options. So we came up with a layout that offers lots of parts for each suite and has the ability to seamlessly combine melodic lines with chordal passages for a "two player" sound.
After a few parts were written for each suite, we would identify the overall feel: bittersweet, contentment, expectant, mournful, etc., going so far as discussing the type of scene or visual the music could accompany.
To achieve a broader range of tones and feel, nearly every suite had its chordal passages recorded with a capo placed at a different fret of the guitar's neck. The entire range of the neck was used for the melody lines.
The guitar used on this project was a Lowden O25C. All chordal passages were recorded in stereo using a Neumann KM184 cardioid condenser microphone paired with a Studio Projects T3 vacuum tube microphone. All melody lines were recorded in stereo using a pair of KM184s. Everything was recorded through a Benchmark PRE420 preamp."
Add four items to the cart and the price of the least expensive item will be set to $0.00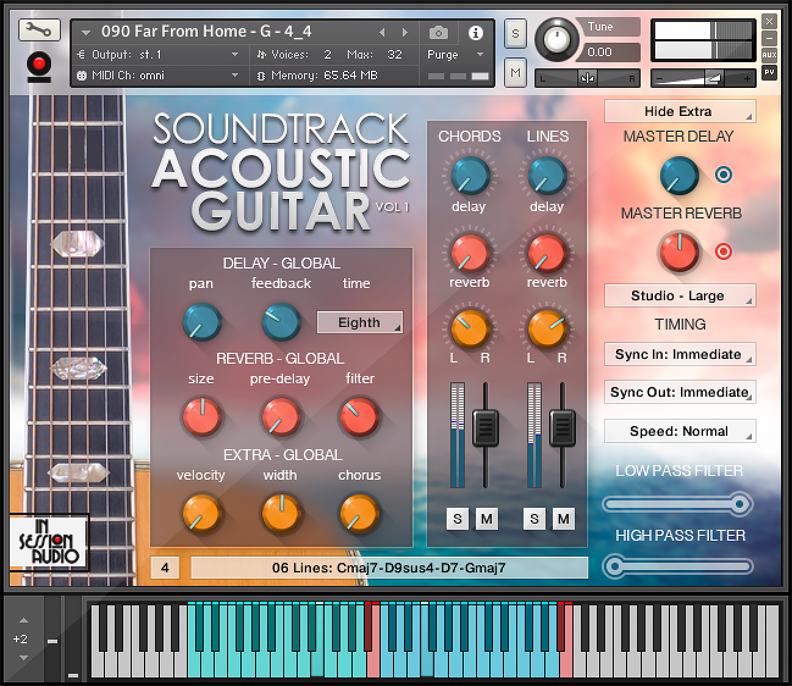 SIZE: Approximately 1 GB for each format when uncompressed; inclusive of the Bonus Set
PARTS: 384; inclusive of the Bonus Set
SOUND: Dry. Kontakt users have a menu of reverb types and other effects that can be applied and modified.
COPY PROTECTED: Custom Watermarked
QUALITY: Stereo 24 bit 44.1kHz
AVAILABLE FORMATS: Kontakt, Apple Loops, Acid Wav, REX, Stylus RMX, Wav. Additional format information is available here.
REQUIREMENTS: The Kontakt format of the library requires the full-retail version of Native Instruments' Kontakt 5.1 or higher.
The free Kontakt Player is not recommended as it only allows 15 minutes of use before timing out.