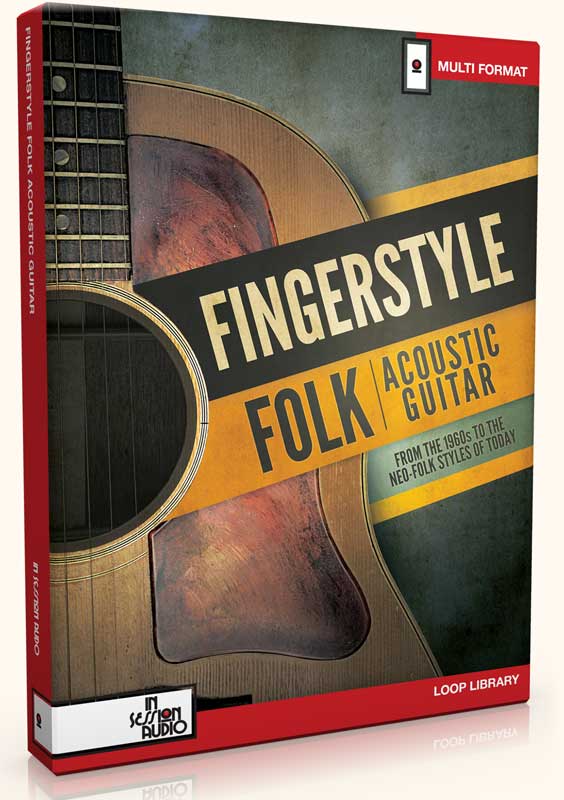 Get the demo loops for any library in any format.
We'll send you an email with links to everything!
Fingerstyle Folk Acoustic Guitar is a loop library with the sounds and feels of the 1960's to the neo-folk styles of today. Beautiful chord progressions and the intertwined sound of two guitars playing in different places on the neck help to create a wide range of musical moods.
With superb performances, natural recordings, and a large selection of "toolbox" loops, Fingerstyle Folk Acoustic Guitar is well suited for songwriters and composers alike.
Producer's Notes
"Ranging from Dylan, Peter, Paul and Mary, Phil Ochs to Simon and Garfunkel, this collection covers all the varied folk styles that have been popular for decades.
Each suite consists of two different acoustic guitars playing through the main theme once. Generally, Guitar A is in standard open tuning while Guitar B is capoed up the neck. After the main theme come different "toolbox" sections of rhythms and sustained chords that relate to the overall feel and key of the song, designed to give the user additional compositional freedom.
The guitars used in this collection were a Bedell MB 17G, a Bedell OH 18GS, a Lowden O25C, a Regal Tricone brass-bodied resonator and a Goldtone wood-bodied resonator.
All guitars were recorded in stereo by two Neumann KM 184 microphones into a Benchmark PRE420 preamp."
Add four items to the cart and the price of the least expensive item will be set to $0.00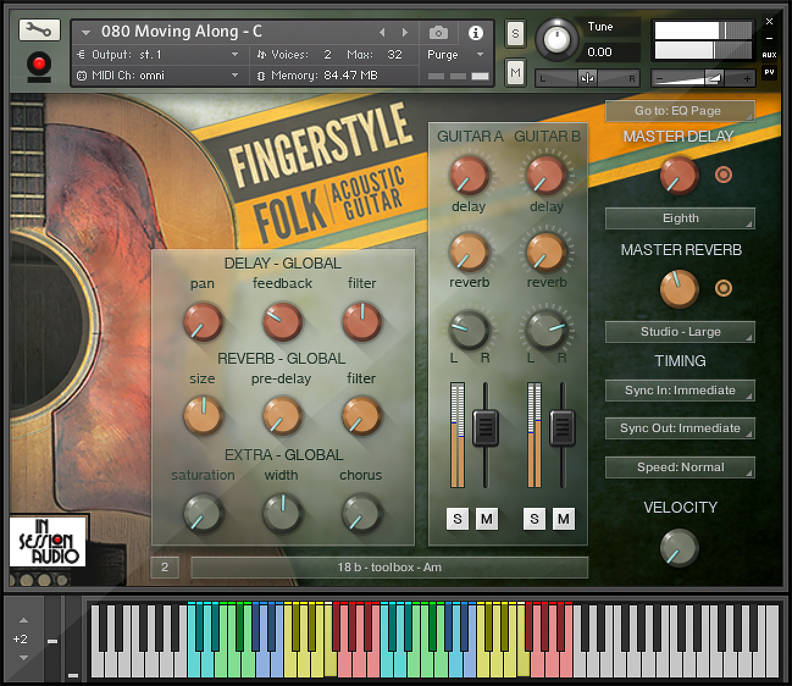 SIZE: Approximately 1.25 GB for each format when uncompressed; inclusive of the Bonus Set.
PARTS: 432; inclusive of the Bonus Set
SOUND: Dry. Kontakt users have a menu of reverb types and other effects that can be applied and modified.
COPY PROTECTED: Custom Watermarked
QUALITY: Stereo 24 bit 44.1kHz
AVAILABLE FORMATS: Kontakt, Apple Loops, Acid Wav, REX, Stylus RMX, Wav. Additional format information is available here.
REQUIREMENTS: The Kontakt format of the library requires the full-retail version of Native Instruments' Kontakt 5.1 or higher.
The free Kontakt Player is not recommend as it only allows 15 minutes of use before timing out.