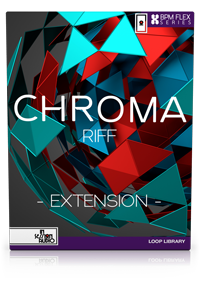 CHROMA – BONUS
ONLY AVAILABLE IN THE CHROMA BUNDLE (SHOWN RIGHT)
Over 20% additional content.
4.5 GB, 12 additional suite sets (12 x 3), 1728 parts Save and get bonus content at the same time!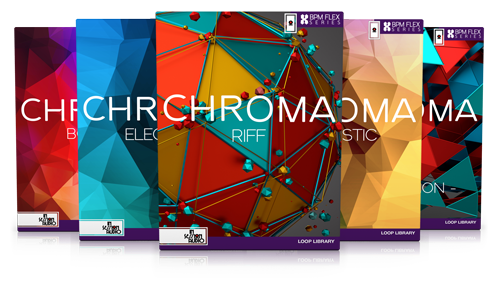 CHROMA BUNDLE
SAVE MORE AND RECEIVE TWO BONUS LIBRARIES
Get the demo loops for any library in any format.
We'll send you an email with links to everything!
Chroma Electric and Chroma Acoustic bring the sound of Fluid Harmonics to the Stylus RMX and REX formats.
By combining guitars, synths and sound design the Chroma libraries allow Stylus RMX & REX users to create beds of melodic pulses and tonal rhythms in any key and at any tempo.
With a chromatic layout, users can "play" Stylus RMX "like a keyboard" to easily combine parts to create any chord that is needed.
The Chroma titles are the first In Session Audio releases to be part of the BPM Flex Series. This means that any loop can be used at virtually any tempo without the use of artificial stretching.
Additionally, Chroma users will experience a rare-seen feature: multi-track loops and MIDI files triggered from a single channel in Stylus RMX! (see below)
Useful, intuitive and flexible, all three Chroma libraries are a welcome addition to any Stylus RMX or REX format user.
Add four items to the cart and the price of the least expensive item will be set to $0.00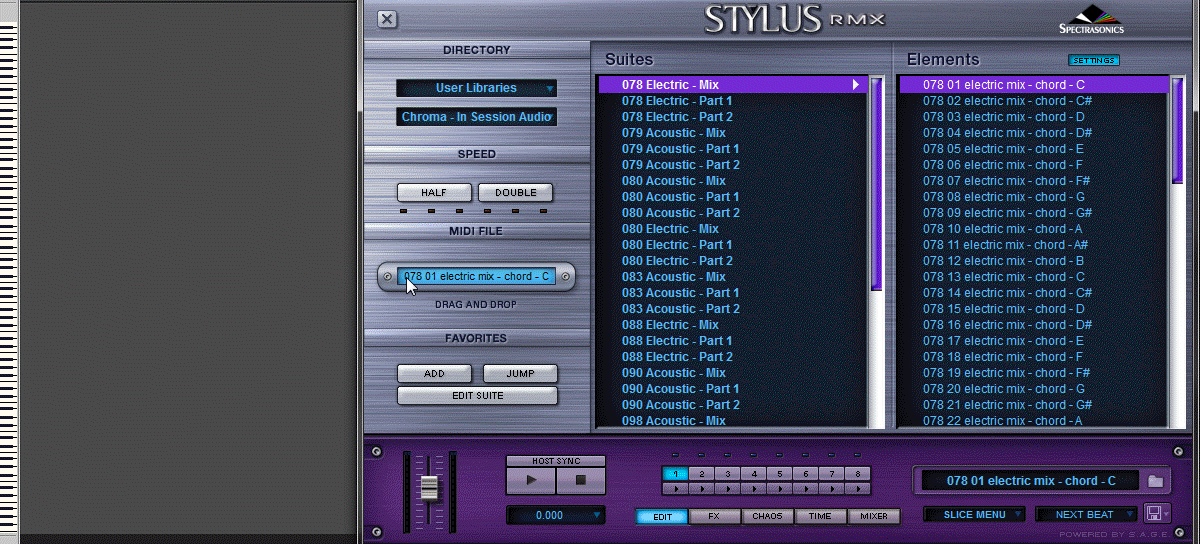 Multi-track RMX Loops: Chroma's Mix suites allow for simultaneous playback of parts 1 and parts 2 – not just a typical mix of the two bounced into one piece of audio (shown above).
BPM Flex Series: Use any loop at virtually any tempo without the use of artificial stretching. Listen to the BPM Flex audio demos go from 130 BPM to 70 BPM.
More Parts: Chroma breaks Stylus RMX's limit of "61 files per suite" by offering 144 parts in the "Mix" suites and 72 in the "Part" suites.
SIZE: Chroma Riff is 11.5 GB in the Stylus RMX format and 3.2 GB in the REX format. The Chroma Riff Extension library is 3.7 GB in the Stylus RMX format and 1 GB in the REX format.
PARTS: Chroma Riff contains 8400 parts in each format. The bonus Chroma Riff Extension library contains 2772 parts in each format.
SOUND: Uses a variety of synth sounds.
COPY PROTECTED: Custom Watermarked
TEMPO RANGE: 70-138 BPM. But as part of the BPM Flex Series™ all parts can be used at a wide range of tempos while remaining intact and on time.
Spectrasonics' Stylus RMX or a REX compatible host (most sequencers will play the format)
STYLUS RMX INSTALLATION: Chroma Riff does not require the user to convert the library using RMX's SAGE Converter.
Simply decompress the files and drag-and-drop the "Chroma – Riff" folder into RMX's "User Libraries" folder.
Although it's quick and easy, we supply visual instruction in the .pdf.