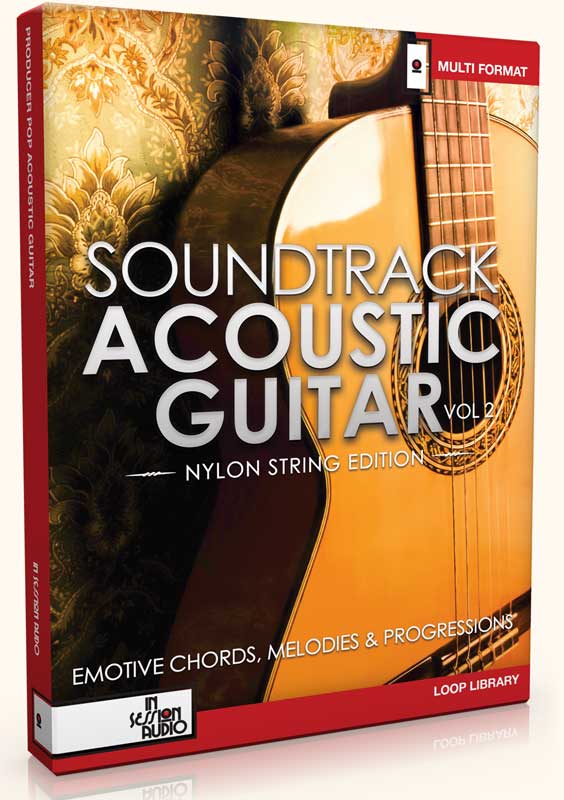 Get the demo loops for any library in any format.
We'll send you an email with links to everything!
Soundtrack Acoustic Guitar Vol 2: Nylon String Edition is a loop library featuring an array of emotive chords, progressions and single line melodies, designed for those wanting to add expressive and delicately played acoustic guitar to their music.
Consisting of all new material performed on a nylon string guitar, the collection has a contemporary sound with influences from classical, Spanish, jazz and other musical genres.
With restrained yet evocative performances, Soundtrack Acoustic Guitar Vol 2 can help build the framework of a track or add the perfect flourish for a final mix.
Producer's Notes
"We continued with the layout we developed for Soundtrack Acoustic Guitar Vol 1: lots of parts for each suite plus the option to combine melodic lines with chordal passages for a "two player" sound.
We cover a broad range of feels in this collection through the use of Major and Minor keys, a variety of tempos and meters, and a host of emotional settings. Suites go from wistful, to ceremonial, to laid-back feel-good, to many others.
We used a cedar top classical guitar with nylon "recording strings" to minimize string noise. Depending on the suite, recordings were either made with a pair of Neumann KM184 cardioid condenser microphones or a KM184 with a Royer 122 ribbon microphone. Everything was recorded through a Benchmark PRE420 preamp."
Add four items to the cart and the price of the least expensive item will be set to $0.00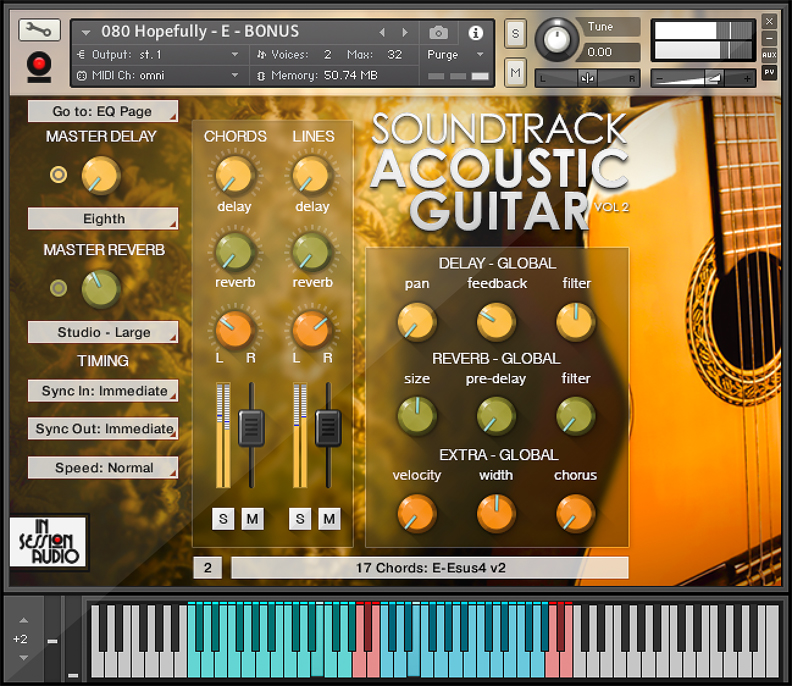 SIZE:  Approximately 1.2 GB for each format when uncompressed; inclusive of the Bonus Set
PARTS: 480; inclusive of the Bonus Set
SOUND: Dry. Kontakt users have a menu of reverb types and other effects that can be applied and modified.
COPY PROTECTED: Custom Watermarked
QUALITY: Stereo 24 bit 44.1kHz
AVAILABLE FORMATS: Kontakt, Apple Loops, Acid Wav, REX, Stylus RMX, Wav. Additional format information is available here.
REQUIREMENTS: The Kontakt format of the library requires the full-retail version of Native Instruments' Kontakt 5.1 or higher.
TThe free Kontakt Player is not recommend as it only allows 15 minutes of use before timing out.