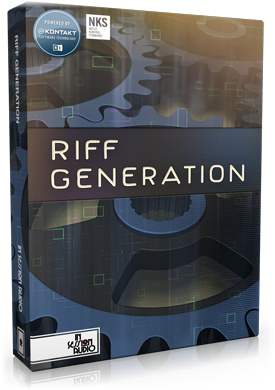 RIFF GENERATION
SAMPLE LIBRARY FOR KONTAKT
OR THE (FREE) KONTAKT PLAYER
AVAILABLE LATE MARCH
ADDITIONAL INFORMATION AND CONTENT COMING SOON
GENERATIVE. CREATIVE. ADAPTIVE.
(and takes one finger to play)
(IF YOU'RE NOT ALREADY ON OUR MAILING LIST)
Sign up to receive an EXCLUSIVE DISCOUNT offer upon Riff Generation's release.
GET THE LIBRARY FOR LESS AND BEFORE THE PUBLIC.
RIFF GENERATION
Based around a set of musical parameters that you control, Riff Generation creates exciting, complex and surprising combinations of melody, rhythm and sound design with the press of a button.

With a one-of-a-kind engine powered by Native Instruments' free Kontakt Player platform, every riff adapts to your track's tempo, key, scale and currently played note.

Whether you need song starters, ambient washes, basslines, or pluck-laden pulses, Riff Generation closes the distance between the start and the finish of your track.
LIMITED TIME: $50 OFF FLUID LIBRARIES