GENERATIVE. CREATIVE. ADAPTIVE.
(and takes one finger to play)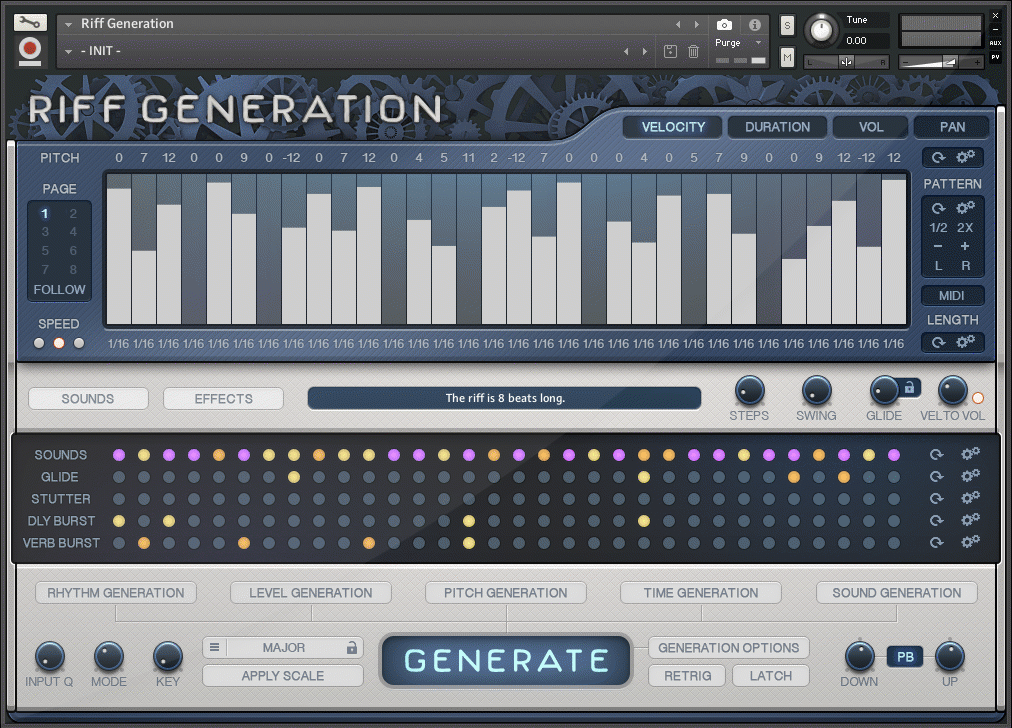 ---
Based around a set of musical parameters that you control, Riff Generation creates exciting, complex and surprising combinations of melody, rhythm and sound design with the press of a button.
---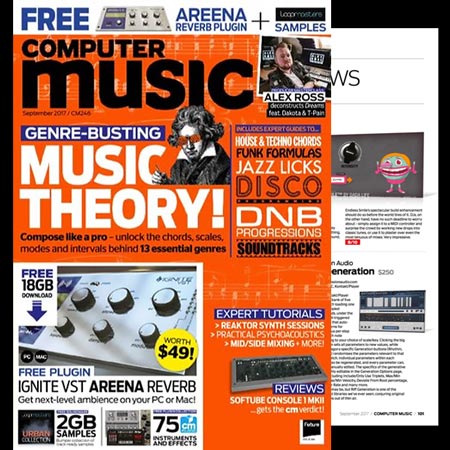 "…Riff Generation is one of the deepest Kontakt libraries we've ever seen, conjuring original melodic patterns out of thin air."
Computer Music Magazine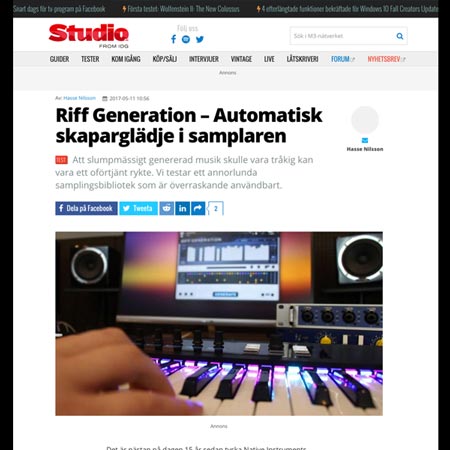 "A touch we really like is how Riff Generation intelligently adapts to the note and scale a sequence is played in… This means that a sequence can be played across an entire song, instead of only on specific notes or chords."
Score: 10/10
Studio.se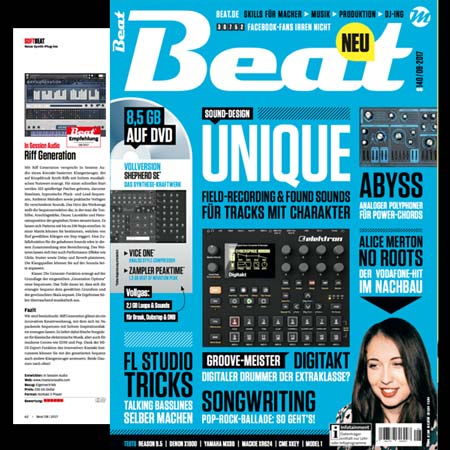 "We are impressed: Riff Generation shines as an innovative creative tool… Two thumbs up!"
Score: 6/6 & Recommendation Award
Beat Magazine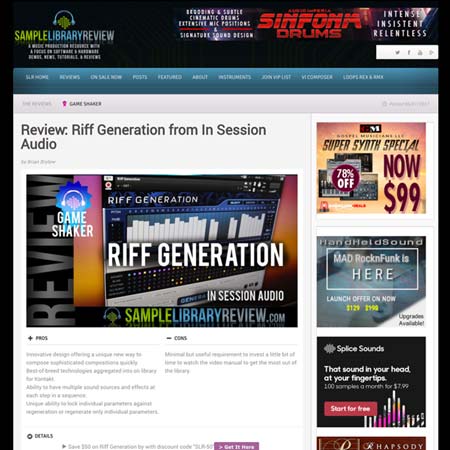 "Never has there been such a brilliant combination of elements that allow you to quickly create the underlying rhythm and/or melody for an entire song in such rapid fashion while maintaining an almost surgical precision in control of individual parameters."
Game Shaker Award
Sample Library Review
ONE ENGINE – FOUR BENEFITS
Connector.

Connector.

SOUND

Heavy-duty sound design through the generative process, creating riffs that can glide, stutter, burst through effects and change sound on a step-by-step basis.

Connector.

Connector.

ADAPTIVE

Riffs adapt to tempo, key, scale and currently played note. MIDI files for any riff can be exported directly from the interface via drag-and-drop. Or send MIDI out in real time to other virtual instruments!

Connector.

Connector.

GENERATIVE CONTROL

A musical range of options allow the generative process to be directed by the user.

Connector.

Connector.

LOADED

Song starters, ambient melodies, basslines, noisy leads, pluck-laden pulses and generation templates spread over 325 patches.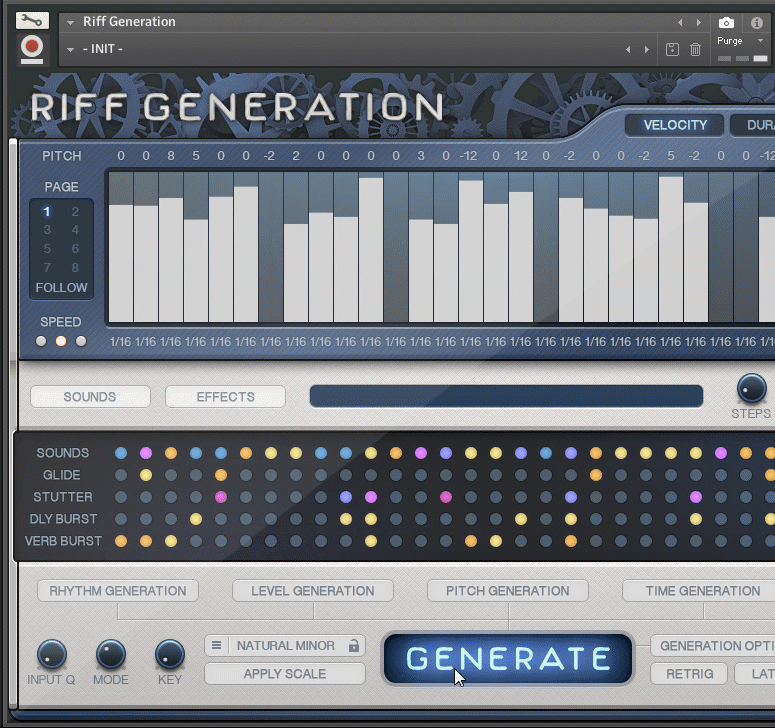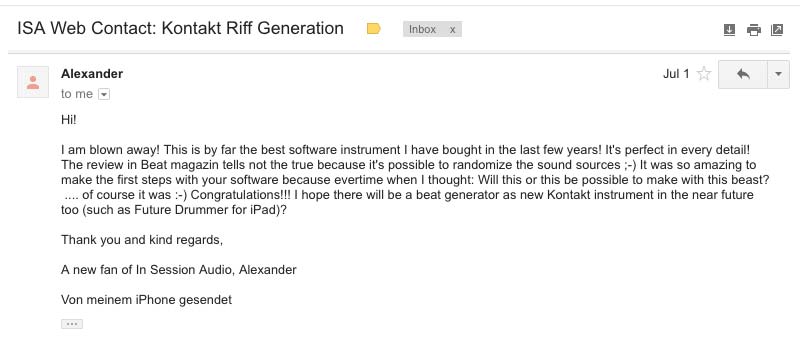 FOUR FOR THREE
Add four items to the cart and the price of the least expensive item will be set to $0.00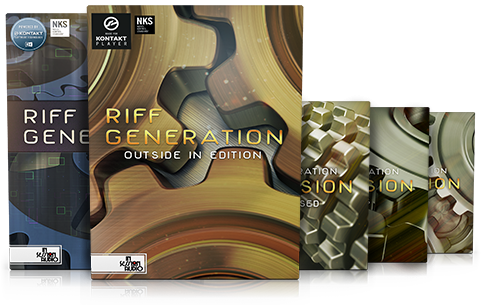 RIFF GENERATION
COMBO PACKAGE
FOR KONTAKT OR THE (FREE) KONTAKT PLAYER
COMBO PACKAGE DISCOUNT
SAVE $300 & RECEIVE EXPANSIONS
$499.95
$199.98 – ADD TO CART
SPECIAL ANNIVERSARY PRICING THROUGH SUNDAY, AUG 22
THERE IS NO OVERLAP OF MATERIAL BETWEEN EITHER VERSION OF RIFF GENERATION

Every Riff Generation owner receives access to the Video Manual.
Gain a complete working knowledge of Riff Generation in about 20 minutes through a series of short, easy to navigate videos.
Includes a SUPER QUICK START video.
An in-depth PDF Manual is also available.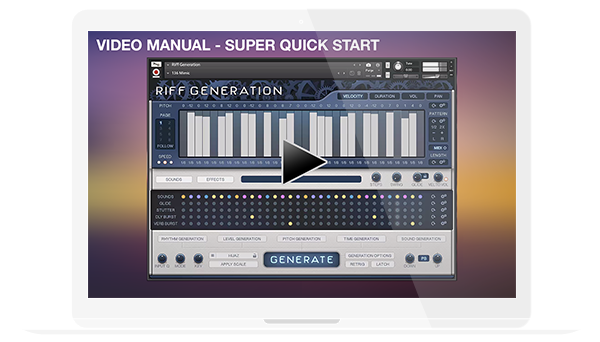 NKS READY: RIFF GENERATION
Native Kontrol Standard (NKS) is Native Instruments' extended plug-in format.
NKS allows for seamless interaction between RIFF GENERATION and KOMPLETE KONTROL and MASCHINE hardware.
REQUIREMENTS
SOFTWARE: Riff Generation runs in Kontakt or the free Kontakt Player 5.6.1 or higher (requires a minimum of Windows 7 or Mac OS 10.10).
COMPUTER: Riff Generation utilizes an extensive set of features, therefore, users are recommended to have an up-to-date and powerful computer/CPU for the best experience.
ACCESS: A stable internet connection for library download and activation is required.
COPY PROTECTION: Custom Watermarked
FREE KONTAKT PLAYER
DOWNLOAD KONTAKT PLAYER