AN INSTRUMENT YOU CAN USE ON NEARLY EVERY TRACK FOR YEARS TO COME.
About this Virtual Instrument
Shimmer Shake Strike is a one-stop-shop for all your "top of mix" percussion needs.
This sample library of tambourines, shakers and small hand percussion allows you to create and control the sound of realistic, human performances with ease.
Useful to almost every genre of music, Shimmer Shake Strike will be a library that you will use over and over for years to come.
"Every so often, something so incredibly useful comes out that you wonder why nobody thought of it before. Shimmer Shake Strike is just such a thing."
Sound on Sound Magazine
Nick Magnus
Add four items to the cart and the price of the least expensive item will be set to $0.00
Traditional "sampling" of instruments is rather straightforward: record the instrument being played from soft to hard.
---
But for tambourines and shakers, that approach will never come close to reproducing a life-like sound.
---
Instead, we recorded percussion performances, harvesting samples of forward and backward thrusts, accents, twists, and variations of the important "in-between" sounds that glue everything together.
---
Using this approach, each shaker pulls from 130 samples across 13 articulation types.
---
But more importantly: when using Shimmer Shake Strike, samples from the performances reconnect to fit your track, retaining the nuance and variation of the player.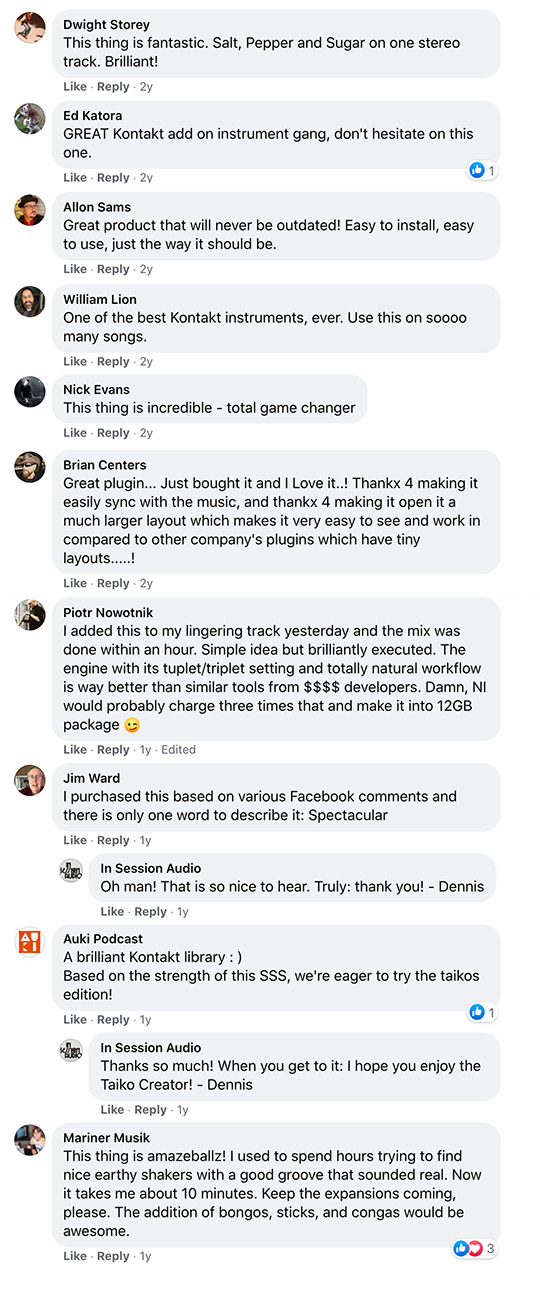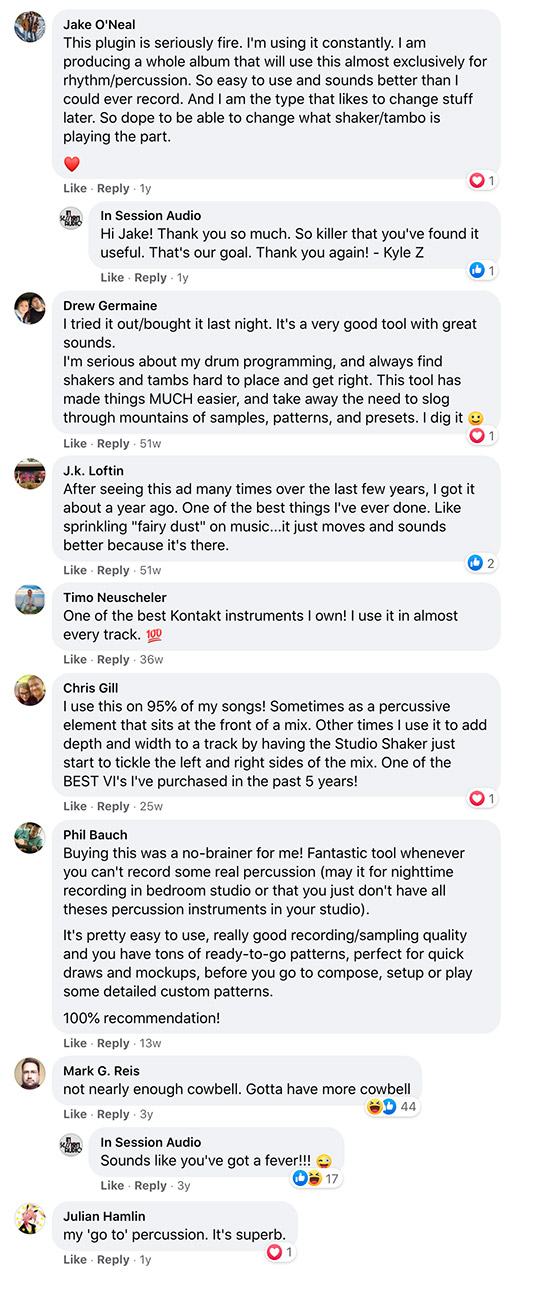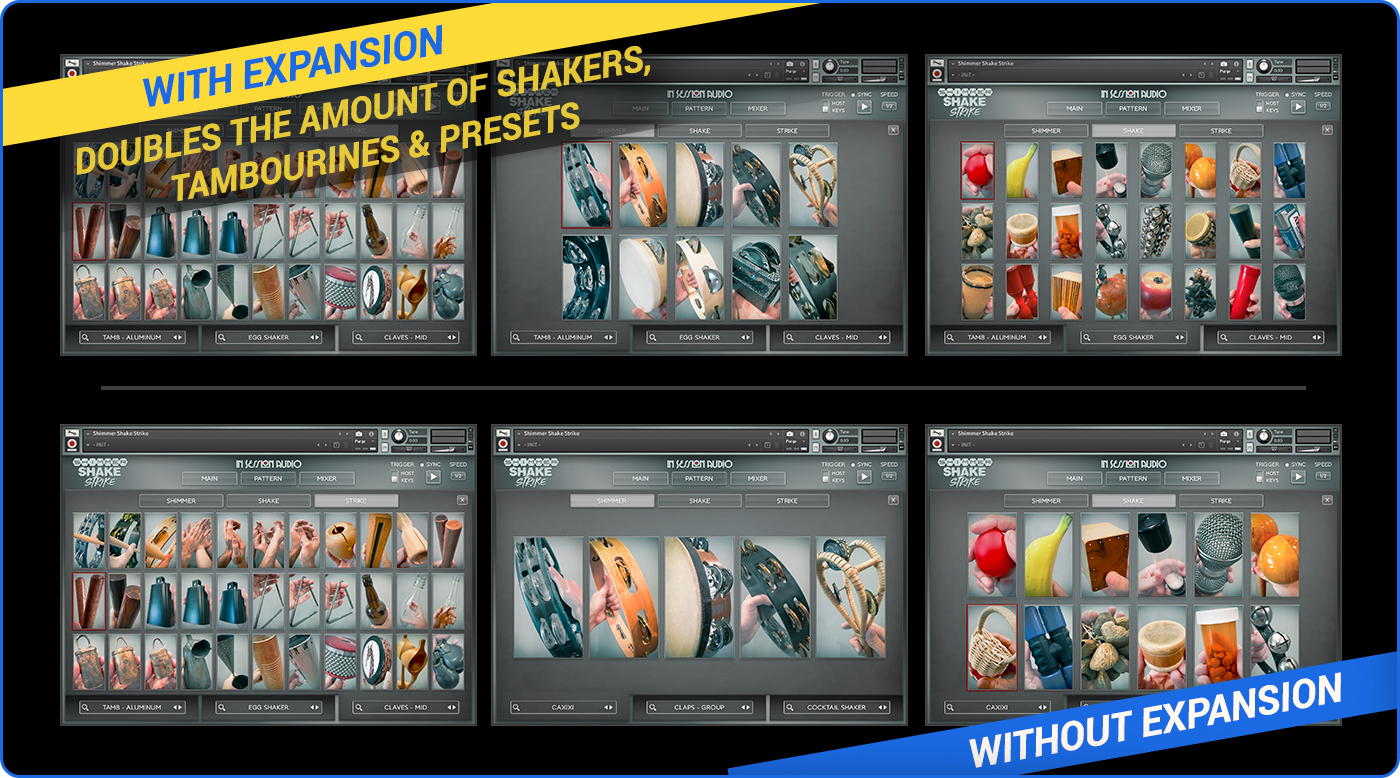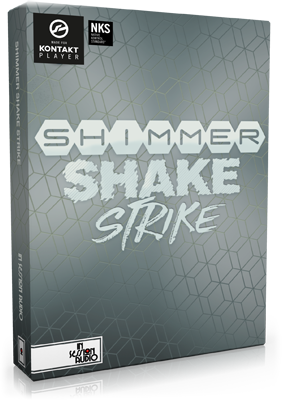 SHIMMER SHAKE STRIKE
Core Package
$99.99
(
Yes
: It currently costs less to buy the bigger package to the right.)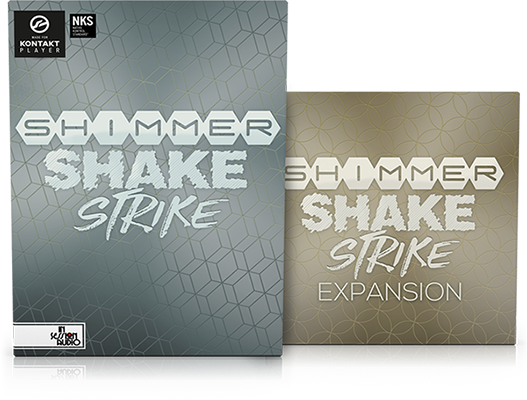 SHIMMER SHAKE STRIKE & EXPANSION
Doubles the amount of Shakers, Tambourines & Presets
NOW: The lowest price through the holidays.
Every Shimmer Shake Strike owner receives access to the Video Manual.
Gain a complete working knowledge of Shimmer Shake Strike in about 15 minutes through a series of short, easy to navigate videos.
Includes a SUPER QUICK START video.
An in-depth PDF Manual is also available.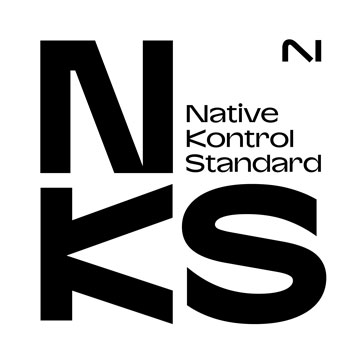 NKS READY: SHIMMER SHAKE STRIKE
Native Kontrol Standard (NKS) is Native Instruments' extended plug-in format.
NKS allows for seamless interaction between SHIMMER SHAKE STRIKE and KOMPLETE KONTROL and MASCHINE hardware.
PATTERNS PER PATCH: Eight
STEPS PER PATTERN: 2-64
ROLLS: Available for all tambourines and shakers
ONE SHOTS: Available for all instruments
Simple to use, the engine allows you to have different patterns for different parts of your song, all switchable from either your MIDI keyboard or the user interface.
Single instruments can also be triggered at any time (most appropriate for ending patterns or occasional hits) as well as rolls for the tambourines and shakers.
TAMBOURINES: 5
SHAKERS: 12
STRUCK PERCUSSION: 33
PRESETS: 84
Note: The majority of images and demo material feature the library with the Expansion pack.
Note: Adding the Expansion pack at a later time is not currently supported.
SHIMMER SHAKE STRIKE w EXP.
TAMBOURINES: 10
SHAKERS: 24
STRUCK PERCUSSION: 33
PRESETS: 184
Purchasing the library with the Expansion doubles the amount of tambourines and shakers and adds 100 additional presets.
Note: Adding the Expansion pack at a later time is not currently supported.
Most images, videos and demo material showcase the library WITH the Expansion.
SOFTWARE: Shimmer Shake Strike runs in Kontakt or the free Kontakt Player 5.6.8 or higher (requires a minimum of Windows 7 or Mac OS 10.11).
ACCESS: A stable internet connection for library download and activation is required.
COPY PROTECTION: Custom Watermarked