GENERATIVE. CREATIVE. ADAPTIVE.
(AND TAKES ONE FINGER TO PLAY)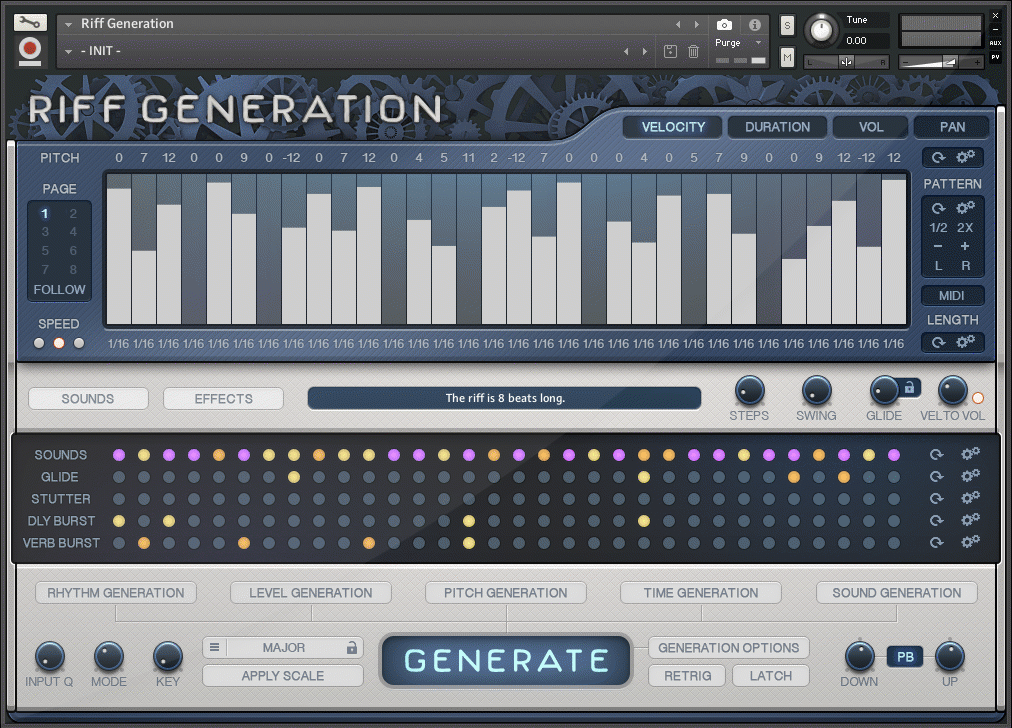 Based around a set of musical parameters that you control, Riff Generation creates exciting, complex and surprising combinations of melody, rhythm and sound design with the press of a button.
"We are impressed: Riff Generation shines as an innovative creative tool… Two thumbs up!"
& Recommendation Award
Beat Magazine
"…Riff Generation is one of the deepest Kontakt libraries we've ever seen, conjuring original melodic patterns out of thin air."
Computer Music Magazine
One Engine – Four Benefits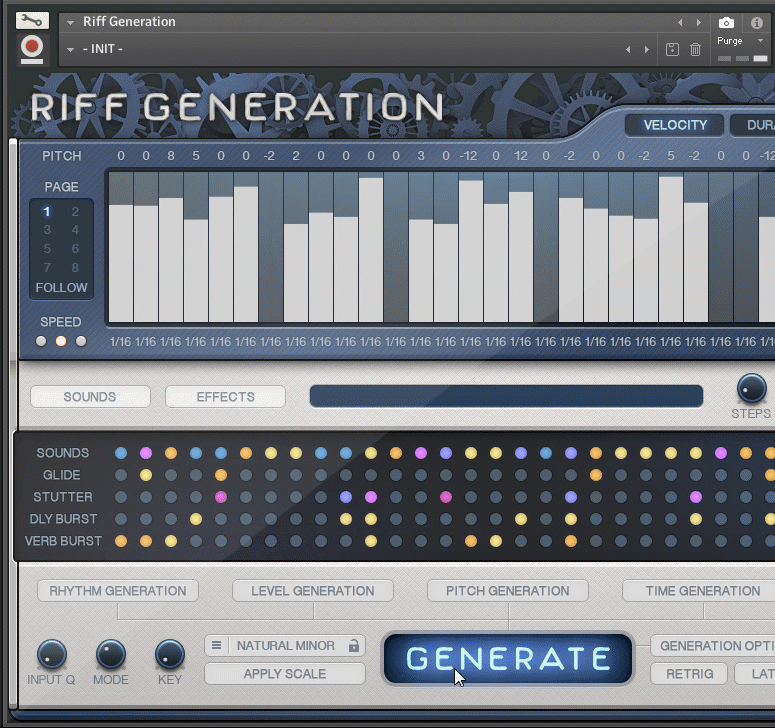 SOUND
Heavy-duty sound design through the generative process, creating riffs that can glide, stutter, burst through effects and change sound on a step-by-step basis.
---
ADAPTIVE
Riffs adapt to tempo, key, scale and currently played note. MIDI files for any riff can be exported directly from the interface via drag-and-drop. Or send MIDI out in real time to other virtual instruments!
---
GENERATIVE CONTROL
A musical range of options allow the generative process to be directed by the user.
---
LOADED
Song starters, ambient melodies, basslines, noisy leads, pluck-laden pulses and generation templates spread over 225+ patches.
Add four items to the cart and the price of the least expensive item will be set to $0.00

Differences between Riff Generations
RIFF GENERATION COMBO WITH EXPANSIONS
Currently, Riff Generation (Blue) is only available bundled with Riff Generation: Outside In Edition.
If you would like only one, please checkout Riff Generation: Outside In Edition.
There is no overlap of material between either version of Riff Generation.
What's the difference? See here.
CYBER WEEK COMBO SAVINGS: $391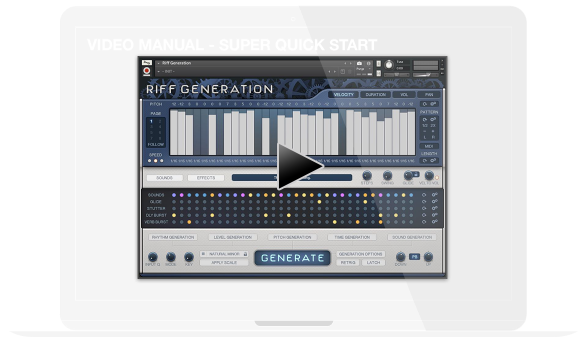 Every Riff Generation owner receives access to the Video Manual.
Gain a complete working knowledge of Riff Generation in about 20 minutes through a series of short, easy to navigate videos.
Includes a SUPER QUICK START video.
An in-depth PDF Manual is also available.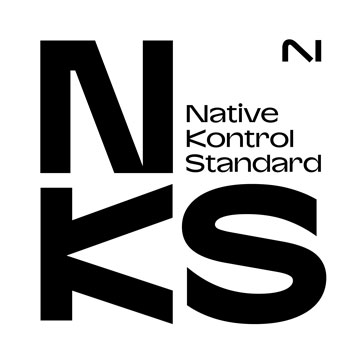 NKS READY: RIFF GENERATION
Native Kontrol Standard (NKS) is Native Instruments' extended plug-in format.
NKS allows for seamless interaction between RIFF GENERATION and KOMPLETE KONTROL and MASCHINE hardware & software.
SOFTWARE: Riff Generation runs in Kontakt or the free Kontakt Player 5.6.1 or higher (requires a minimum of Windows 7 or Mac OS 10.10). Natively supports Apple Silicon/M1.
COMPUTER: Riff Generation utilizes an extensive set of features, therefore, users are recommended to have an up-to-date and powerful computer/ CPU for the best experience.
ACCESS: A stable internet connection for library download and activation is required.
COPY PROTECTION: Custom Watermarked